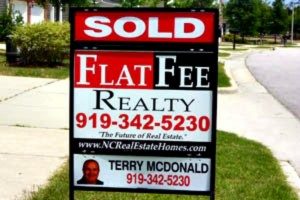 Many homeowners across the Triangle want to sell their home. Apex, Raleigh, and Cary are just a few local communities that are red hot for buyers. As Flat Fee Realty assesses the market, we believe the time to list is now! Compared to other states that have experienced declining real estate prices after the housing market crash of 2008, North Carolina has progressed each and every year. Zillow.com estimates the median home value at $150,000 statewide and predicts that value will increase 3% in 2016.
In addition, Charlotte and Raleigh are leading the state in home appreciation and sales since 2010, according to Wells Fargo Economic Outlook. With such a hot real estate market in Raleigh, it is important to have the home for sale visible to buyers and agents. Our real estate experts at Flat Fee Realty are well-connected in the Triangle area, and we know the right strategies to sell local homes quickly and with the right process. Our team of professionals will provide insight into current real estate market trends, especially those factors that are influencing the local market boom happening this summer of 2016.
Flat Fee Realty offers three trends that home sellers need to know when listing a home in the Triangle area:  
Millennials and young professionals are driving home sales: College graduates and young professionals are flocking to the Triangle in order to secure jobs in engineering, research, medical trials, and education among others. Property values have also increased, further sparking interest in the local housing market.
Buyers are focused on needs not wants: Local home buyers are interested in buying homes based on location and functionality, rather than luxury and amenities. With a need to be near the Research Triangle Park (RTP) and other technical and research heavy areas, entire markets benefit. For example, Downtown Raleigh and inner beltline areas have seen more than 2,000 apartment complexes built over two years and the demand is increasing with more corridors opening up along Interstate 40.
Demand is high and supply is low: According to Triangle Real Estate, in the first two months of 2016 there were 1,427 homes listed in Wake County with only 5.61% expiring. The average sale was 98.76% of the asking price and took about 51 days to be sold.
This is all encouraging news for homeowners looking to sell a home in Raleigh, Apex, Cary, Wake Forest, Durham and other very active markets! By utilizing the experience of our real estate professionals at Flat Free Realty, any home is sure to sell quickly and at or around the median-market value. Contact us today to see how we can help!
**
This post on selling and buying a home in the Triangle is brought to you by the team at Flat Fee Realty and is intended for informational purposes only.
The Future of Real Estate!
Flat Fee Realty
919 342 5230

Photo: Flat Fee Realty