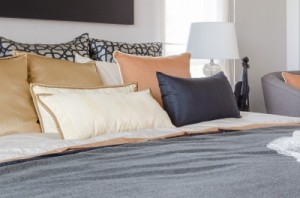 As the old adage goes, "First impressions are everything!" This is very true when it comes to the Triangle NC real estate market! In this hot market, it is incredibly important to give a great first impression. The first minutes, as potential buyers walk from the car and through the front door, are very important. Many Triangle home sellers stage their houses and many do it well. Staging a house properly has a variety of important benefits and it can be done in a number of ways.
From the Flat Fee Realty team, here are the top four best ways to stage a Triangle home:
Remove clutter: This is a very simple and big first step. Removing any excessive furniture and decorations can go a long way towards opening up the home and making potential Triangle homebuyers more at ease.
Eliminate the personal stuff: While potential home buyers understand that this is indeed not their home yet, they also really want to be able to envision themselves living in the space. So it might be wise to pack up the family heirlooms in favor of a more open and modern appearance throughout the home.
Rearrange the rooms: Open up the rooms with proper furniture and table placement. Use flowers and fresh and appealing plants to draw the potential home buyer's eyes to the positives.
Ask for friendly advice: There is usually a good neighbor or friend that can give advice on how the house looks before the sign goes up or when there is that first open house. This strategy can really help adjust the overall picture. Sometimes important details are overlooked and potential buyers might catch any negatives.
Flat Fee Realty is the best way to buy and sell a home in the Triangle and Raleigh. Our team has all the tools needed, and with an advanced and affordable suite of options that will help the Triangle homeowner get the greatest value for their Triangle property, it is critical to give us a call. Contact Flat Fee Realty at 888-646-9488 or visit our website.
**
This post on selling and buying a home in the Triangle is brought to you by the team at Flat Fee Realty and is intended for informational purposes only.
The Future of Real Estate!
Flat Fee Realty
919 342 5230
Photo: khongkitwiriyachan, freedigitalphotos.net