Sell Your Home Fast and Pay Less
In North Carolina With Flat Fee Realty
"Traditional" Full Service Package
(no up front fees)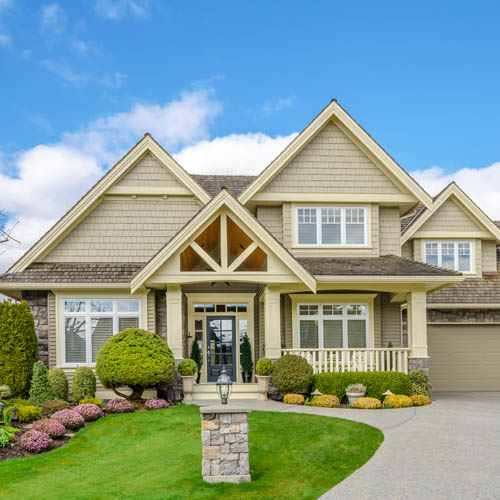 The cost of this package is one percent (1%) of the final sales price or $3,000, whichever is greater, plus any buyers agent commission. All of these costs are paid at the closing.
Helps sellers save thousands and pay less to sell so they have more money for their next home.

Flat Fee Realty

will offer full representation of your property to enable you to sell your home fast.

Flat Fee Realty

will market your property in the MLS (Multiple Listing Service).
With the MLS listing, your property will be exposed to thousands of realtors and their websites, along with their buyers in your area.
Your property will be listed on Zillow.com, Trulia.com, Realtor.com, and hundreds of similar websites.
Any agent who wants to show your home will coordinate and schedule through an operator assisted call center. After the agent is done showing, they will be asked to provide feedback, which will be emailed directly to you.
We will monitor feedback and follow up including any repair requests.
We will handle all negotiations through the closing on your behalf.
We will verify mortgage pre-approvals and follow up during the loan process.
We will represent your best interests through the closing.
A commission will need to be offered to the buyers agent involved in the home sale, if any. Please call, text, or email our office for more details.
Marketing Your Property Is Effective With Flat Fee Realty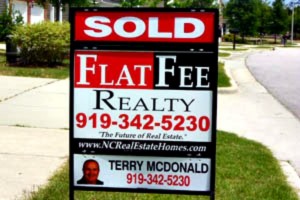 The most important component in selling a home is visibility:
getting agents and potential buyers to notice your home, and become interested in looking at it personally.
The most effective visibility tool, by far, is the MLS (Multiple Listing Service).
This online service is used by literally thousands of agents and potential buyers. However, only licensed real estate agents have the ability to list homes using the MLS service, and there is typically a steep commission or fee involved. That's where
Flat Fee Realty
comes in. We charge a small fee to list your property on MLS, insuring it is seen by thousands of agents and potential buyers!
Our Real Estate Brokers are involved in the community and understand the market well. Our flat fee includes the expertise of our brokers, who will help with your MLS listing and insure it is attractive and attention-grabbing to potential buyers and agents. Your NC real estate listing will be seen on multiple websites for exposure that is cost-efficient and much more effective than simply putting a "For Sale" sign in your front yard.
Full Service Traditional 6 Percent Real Estate Listing Commissions Versus Flat Fee MLS Listing Commissions
Save thousands when selling your home – see for yourself in the table below.


Price of Home
Traditional Company's Full Service (6%)

Full Service
(1% to FFR
+ 2.4% to BA)
Percentage Equivalent
Your

SAVINGS

with

$150,000
$9,000
$6,600
4.39%
$2,400
$160,000
$9,600
$6,840
4.27%
$2,760
$170,000
$10,200
$7,080
4.16%
$3,120
$180,000
$10,800
$7,320
4.06%
$3,480
$190,000
$11,400
$7,560
3.97%
$3,840
$200,000
$12,000
$7,800
3.90%
$4,200
$210,000
$12,600
$8,040
3.82%
$4,560
$220,000
$13,200
$8,280
3.76%
$4,920
$230,000
$13,800
$8,520
3.70%
$5,280
$240,000
$14,400
$8,760
3.65%
$5,640
$250,000
$15,000
$9,000
3.60%
$6,000
$260,000
$15,600
$9,240
3.55%
$6,360
$270,000
$16,200
$9,480
3.51%
$6,720
$280,000
$16,800
$9,720
3.47%
$7,080
$290,000
$17,400
$9,960
3.43%
$7,440
$300,000
$18,000
$10,400
3.40%
$7,800
$310,000
$18,600
$10,540
3.40%
$8,060
$320,000
$19,200
$10,880
3.40%
$8,320
$330,000
$19,800
$11,220
3.40%
$8,580
$340,000
$20,400
$11,560
3.40%
$8,840
$350,000
$21,000
$11,900
3.40%
$9,100
$360,000
$21,600
$12,240
3.40%
$9,360
$370,000
$22,200
$12,580
3.40%
$9,620
$380,000
$22,800
$12,920
3.40%
$9,880
$390,000
$23,400
$13,260
3.40%
$10,140
$400,000
$24,000
$13,600
3.40%
$10,400
$410,000
$24,600
$13,940
3.40%
$10,660
$420,000
$25,200
$14,280
3.40%
$10,920
$430,000
$25,800
$14,620
3.40%
$11,180
$440,000
$26,400
$14,960
3.40%
$11,440
$450,000
$27,000
$15,300
3.40%
$11,700
$460,000
$27,600
$15,650
3.40%
$11,960
$470,000
$28,200
$15,980
3.40%
$12,220
$480,000
$28,800
$16,320
3.40%
$12,480
$490,000
$29,400
$16,660
3.40%
$12,740
$500,000
$30,000
$17,000
3.40%
$13,000
$525,000
$31,500
$17,850
3.40%
$13,650
$550,000
$33,000
$18,700
3.40%
$14,300
$575,000
$34,500
$19,550
3.40%
$14,950
$600,000
$36,000
$20,400
3.40%
$15,600
$650,000
$39,000
$22,100
3.40%
$16,900
$700,000
$42,000
$23,800
3.40%
$18,200