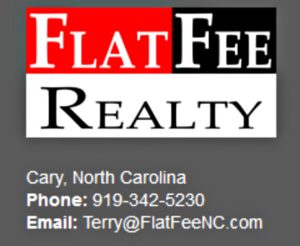 As the Carolinas head to Labor Day and the start of back to school, it is a great time of year for Lake Norman, the Triangle and Wilmington. it is beginning to cool down but it is still warm enough to enjoy the outdoors. September is also a great time for real estate as many local families begin considering a move to a new home. Many homeowners begin the process by considering home improvements that will attract just the right buyer.
At Flat Fee Realty, headquartered in the Triangle, we suggest keeping things simple while at the same time staying within the family budget. Many of homeowners can make a few quick changes to their home to improve the offer price.
Flat Fee Realty NC offers three simple yet effective home improvements that really positively impact the price of a home in our collective markets:  
Update the décor: If a room feels outdated to the homeowner, it will most likely feel that way to a potential home buyer. A home needing updates is a big reason not to buy for many house seekers. Again, keep things simple. Replace older rugs and window coverings. Paint rooms in a neutral color. Change out fixtures and add new knobs to kitchen cabinets. Determine if the flooring needs to be updated. Add some light throw pillows or wall decorations. Spending a little often brings a lot of return.
Clean and organize: Many North Carolina homeowners have lived in their home for a long time. There is a good chance that there will be clutter and a little disorganization. Toss unnecessary items, give away what is not needed, and store as much as possible to give the home a warm and organized feel. Decluttering is one of the main priorities. Clutter is the number one reason buyers choose another home.  
Improve curb appeal: This is typically one of the most cost-effective home improvement projects and a great one for fall. Does the lawn have brown spots? Work on seeding over those sections. Add fresh plants and flowers to the flower beds. Trim the bushes. Edge the lawn and have the driveway power washed. If needed, add a fresh coat of paint to the exterior of the home. There are quite a few simple upgrades for the exterior of the home, including putting fresh paint and handles on the front door, that will help home buyers feel right at home when they first pull up.
These are all really easy, cost effective projects that will help any home sell faster and get a better asking price. Looking for a first home, maybe a bigger one for the family? Call our offices in Lake Norman, Wilmington and in the Triangle to chat about the process of selling and buying a new home this fall.  Contact the Flat Fee Realty team to get started today!
**
This post on selling and buying a home in Wilmington, Lake Norman, and the Triangle of North Carolina is brought to you by the team at Flat Fee Realty LLC and is intended for informational purposes only.
Please note our new locations in Wilmington and Lake Norman/ Charlotte
Find us on Instagram!
The Future of Real Estate!
Flat Fee Realty
Triangle: 919 342 5230 
Lake Norman/ Charlotte: 704 659 3560
Wilmington: 910 225 7721
Photo: Flat Fee Realty NC