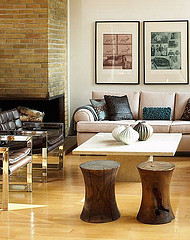 Summer is here in Central Carolina and the Triangle real estate market is booming! Warm, sunny weather and long hours of daylight have potential buyers on the hunt for their next home. It is the perfect time of year and the height of selling season. Now, what can the seller do to turn lookers into buyers?
These six selling tips offered from Flat Fee Realty will help get any home ready for showings, offers, and most importantly, a sale:

Roll out the red carpet (or maybe just a welcome mat): All joking aside, a little curb appeal goes a long way. Purchase a new, clean doormat, and add some colorful, potted flowers for the porch area or near the front door.

Neutralize it: Paint the interior in a sophisticated, basic shade. Provide a blank slate using gender-neutral beiges or grays to help buyers envision themselves in the home. Fresh paint smell is a very positive bonus for people wanting a "turn-key" house.

Focus on the three "De's": De-clutter, depersonalize, and detail clean. Clear all the counter and tabletops. Pack up pictures and knickknacks, and keep everything spic and span.

Follow the 30% rule. Closets and storage space are big selling points, especially in areas like the Triangle (where basements are rare). Aim for 30% empty space in these areas to accentuates their spaciousness.

Reduce and rearrange: Remove a few non-essential pieces of furniture to open up the rooms. Take what is left on the walls and arrange everything in a way that highlights the flow of each room.

Consider a pre-listing inspection: Every house has local competition. The house has to stand out over the rest. An inspection will alert the homeowner to any potential issues in advance (rather than waiting for them to pop up in the buyer's inspection). Leave a copy on display at showings as an additional selling point.
Selling your home (not to mention finding a new one) can be an emotional and logistical rollercoaster. Whether homeowners take on the challenge as an FSBO (for-sale-by-owner) or are looking for a highly qualified, full service agent; Flat Fee Realty can help. To find out how, give us a call!
**

This post on selling and buying a home in the Triangle is brought to you by the team at Flat Fee Realty and is intended for informational purposes only.

The Future of Real Estate!
Flat Fee Realty
919 342 5230
Photo: coco+Kelley/Foter/Creative Commons Attribution-NonCommercial 2.0 Generic (CC BY-NC 2.0)