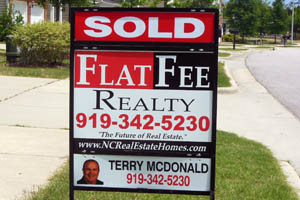 The housing market in North Carolina has stabilized and continues to be on the upswing! That's great news for Triangle buyers and sellers who have been dreaming of selling their current home and moving up to the home they've always wanted. Current market numbers support those plans, and there has never been a better time to trade up.

Flat Fee Realty offers these four reasons why now is a great time to make a move:

There is strong demand from buyers: Purchasing a new home contingent on the sale of a current home can be troublesome. Luckily, pent up demand has flooded the market with buyers who are ready, willing, and able to buy. Sellers who wish to divest themselves of one home before purchasing another will have an easier time doing so right now.

There is less competition from sellers: Housing supply is still historically low. There are currently not enough homes on the market to satisfy all of the buyers. However, home values have risen, and many homeowners who previously wished to sell but couldn't (due to negative equity situations) are now financially able to sell. More homes will be coming onto the market in a very short time.

Housing prices and mortgage rates are predicted to rise: The bottom of the real estate market has come and gone. Nonetheless, prices and interest rates are still relatively low, but will only remain so for a short time. Now is the time to lock in a low mortgage rate and take advantage of increased buying power. Waiting will end up costing more, in both down payment and mortgage payment.

It's time to make a lifestyle change: There are many reasons to buy or sell a home, and when it comes down to it, most of them aren't financial. Perhaps more space, a more desirable location, or a shorter commute to work or school are important. Sometimes, life necessitates a change regardless of what the real estate market is doing. Luckily, the numbers favor moving up at this time.

Selling one home while simultaneously buying another can be hectic and complex, and homeowners are often hesitant to put their families through the stress of a move. Flat Fee Realty wants homeowners to know that market conditions are excellent right now in terms of moving up to a dream home.
Are you looking for a great real estate agent to help you navigate the ups and downs? Give us a call today!
**
This post on selling and buying a home in the Triangle is brought to you by the team at Flat Fee Realty and is intended for informational purposes only.

The Future of Real Estate!

Flat Fee Realty

919 342 5230

Photo: Flat Fee Realty