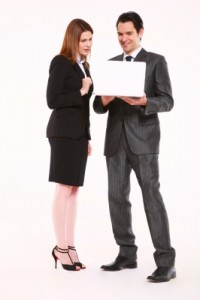 An important question often asked by Triangle home buyers or Triangle home sellers is: 'What is the difference between a buyer's agent and a seller's agent?'

Knowing the difference between the two is not only important to selling or buying a Triangle house, but it could potentially save you thousands of dollars in the Triangle real estate market. Often both types of agents are highly involved in the selling of a home in Raleigh, Durham, Cary, Apex and the surrounding area and it is important that any potential Triangle homebuyer or seller have knowledge of the roles each type of agent play in the real estate market. Flat Fee Realty explains the differences.
A seller's agent, or a 'listing agent,' handles the following aspects of selling a Triangle home:
Represents the buyer: First and foremost, they are the Triangle home seller's representative. This means they are trying to get the best price and terms for the seller, and not the buyer.
Acts as a guide to prepare the home for sale. They usually make selling suggestions and help stage, photograph and show the house to potential Triangle area home buyers.
Shares home buyer information: Finally, a listing agent has the legal obligation to share with the seller any information that they find important about the potential buyers.
The buyer's agent is responsible for representing the following aspects of the home selling process:
Understands the market place and the comps in the area and local neighborhoods: Ability to help get accurate inspections set up for the home that is chosen. Inspections can catch issues and repairs that could potentially cost thousands of dollars in the future.
Protects the buyer. A professional set of eyes and ears are needed to look out for the buyer. Buying a home is a major purchase and something people do quite rarely in their lives. A buyer's agent will make sure all of the contract language and promises made by Triangle home builders are followed through and in the best interests of the Triangle home buyer.
Both the buyer and seller agents are frequent partners in the Triangle home buying process. Residents looking for change as we head more deeply into 2016 need to know that Flat Fee Realty saves both time and money. Cost effective commission fees are the norm and the level of professionalism is what is expected in this very popular marketplace. Call us at the phone number below or work with Flat Fee Realty today by visiting our website.
**
This post on selling and buying a home in the Triangle is brought to you by the team at Flat Fee Realty and is intended for informational purposes only.
The Future of Real Estate!
Flat Fee Realty
919 342 5230
Terry@FlatFeeNC.com

Photo: Ambro, FreeDigital Photos.net