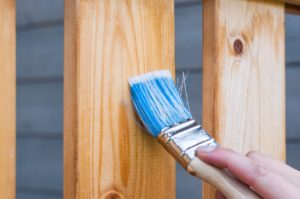 Shows like Fixer Upper and Property Brothers are fun to watch and inspire many homeowners across North Carolina to think creatively about how to upgrade their homes.  For both sellers and buyers, completing home-improvement projects can be rewarding and can make a home in Charlotte, Lake Norman, Wilmington and the Triangle more attractive and functional; however, whether just moving in or preparing to sell a home, Flat Fee Realty agents recommend clients consider the return investment before spending large sums of money on major renovations.
These three upgrades are worth the investment because each one increases resale value:
Update a dated bathroom: A nice bathroom to pamper oneself goes a long way in the housing market. Bathroom remodels normally earn back up to 100% of what homeowners put into it. Not sure where to start? Tile the area around the tub, and add a shower door. Upgrade the vanity (choose something both stylish and functional with storage space) and install a new faucet. If there isn't any ventilation in the bathroom, adding a new bathroom vent fan may help keep the humidity and mildew from warm showers at bay.


Add curb appeal: First impressions are everything. If the house exterior needs cleaning, try remedying the problem with a spray like Wet & Forget. If it still looks dull and faded after that process, consider freshening up the outside of the home with a professional power wash, then a fresh coat of paint. Next, think about the light fixtures both for safety and curb appeal. Finally, a nicely-landscaped lawn can go a long way. Start by trimming any overgrown bushes or trees. Then, consider consulting a landscaper or even a local garden center for ideas.


Upgrade the kitchen: Kitchens are another great place for upgrading for a solid return investment. Try to avoid the cheapest materials, but don't overspend by purchasing items that are more luxurious than functional. Also, remember that while television shows entertain viewers with major renovations, many homeowners can create beautiful spaces with a few simple changes. For example, consider creating storage space that makes items easily-accessible, add granite countertops, and add an upgraded backsplash.
Before spending money on a major renovation, clients should contact a Flat Fee Realty agent to ensure their plans align with the interests of most buyers. This will increase the likelihood of getting a return investment on one's home-improvement projects.
**
This post on selling and buying a home in the Triangle, Wilmington, Charlotte, and Lake Norman is brought to you by the team at Flat Fee Realty and is intended for informational purposes only.
The Future of Real Estate!
Flat Fee Realty
919 342 5230 (Main Number)
Find and like us on Facebook!
Terry@FlatFeeNC.com
Photo : artursfoto, Pixabay