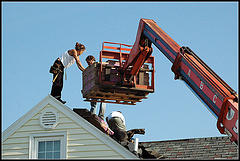 It happens all the time. A buyer is assessing the Triangle NC real estate listings, and comes across the perfect North Carolina home. It's in a prime location, has an attractive and updated interior, and most importantly, comes at an amazing price. The buyer calls the real estate agent, ready to jump right in with an offer. Then, the enthusiasm stops. The listing description states "as is". In the area of real estate, these two words can create a lot of confusion.
Here are four important points the Flat Fee Realty team believes buyers should know before purchasing a home sold in "as-is" condition:

Selling a home as-is benefits the seller, not the buyer: By listing a home as-is, the seller is telling buyers loud and clear that the house might have some costly repairs. Not only that, but selling "as-is" basically releases sellers from liability for the home's condition.

Inspections are a must: Professional inspections are an essential part of any home purchase, but even more so when the home is listed "as-is". It is perfectly legal for sellers to claim to have no knowledge of problems, usually indicated as "no representation" on the seller's disclosure.

Know about risk tolerance: Even the best and most thorough inspections can't guarantee a home will be problem-free, so buyers of "as-is" homes must have a degree of tolerance for the unknown. While purchasing an "as-is" home is risky, it really can often be an excellent decision.

Budget for repairs: Buyers of these homes should have either the cash available or the necessary skills to perform all types of repairs, major and minor. If a buyer doesn't have one or both of these aspects, they may want to reconsider buying this type of home.

The consequences of buying a home listed in "as-is" condition (not to mention the meaning of the phrase itself) are often misunderstood, and the buying decision is sometimes clouded by the possibility of getting a fantastic deal on a new home. Regardless of whether a buyer is purchasing their first home or their fifth one, the experienced and professional agents at Flat Fee Realty can help navigate the risks inherent in every real estate transaction.
Are you looking for an real estate agent who will give you straight-to-the-point, unbiased information on all the homes you are considering? Give us a call!
**
This post on selling and buying a home in the Triangle is brought to you by the team at Flat Fee Realty and is intended for informational purposes only.

Flat Fee Realty

919 342 5230

Photo: joeldinda/Foter/CC BY-NC-SA