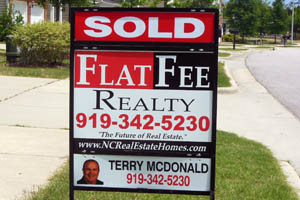 Individuals and families in the Triangle move for any number of important reasons. Among the options they consider is the possibility of selling by owner. If you tell this to "big name" real estate agents, they will tell you that it is a bad idea.
It's true that selling a home can be stressful, tedious, and often full of surprises and pitfalls. It is probably for those reasons alone that most sellers do not consider the For Sale by Owner process. They think it will be even more headaches.
Many people who want to sell their home on their own do it or one important reason. It can save money. Specifically, most people do not want to pay a large commission to a real estate agent (usually 5-7% of the sale price) for services they might not need or believe they can handle themselves.
Flat Fee Realty in the Triangle can actually reduce those large realtor costs and support the sale of a home in a variety of ways. As the Future of Real Estate here in North Carolina, our company provides everything you need and nothing you don't, without the hidden costs or fees.
At Flat Fee Realty our strategies are different from the traditional brokers and national chains.
Here are two ways we help sellers keep a bigger portion of their property's assets:

We streamline the sales process by focusing on the most essential services—only those proven to positively affect the home value and how quickly it sells. This allows us to provide our services at an amazingly reasonable rate (customized plans start at just $795).
Our packages are customized for sellers with a wide variety of needs. Our Flat Fee Marketing Plan works best for more experienced sellers who simply need access to the Multiple Listing Service (MLS) and the Centralized Showing Service (CSS). Our Flat Fee Plus plan provides full service representation and is perfect for sellers who want comprehensive guidance throughout the entire sales process.
With over 40 years of combined experience in the real estate industry, we're ready to help you accomplish your goal of buying or selling a home. Curious about how we work? Give us a call today!
Photo: Flat Fee Realty
**
This post on selling and buying a home in the Triangle is brought to you by the team at Flat Fee Realty and is intended for informational purposes only.

The Future of Real Estate!
Flat Fee Realty
919 342 5230
Contact us
Terry@FlatFeeNC.com