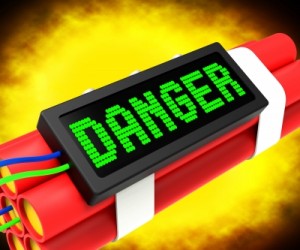 Choosing a real estate agent to list a home is kind of like dating. It requires both trust and commitment, and depending on how long it takes a home to sell, it might be a long-term relationship. And if the association doesn't feel right at first, it's probably not going to get better. Despite these realities, many home sellers put little to no thought or effort into choosing a Triangle agent to represent them in what will likely be one of the largest financial transactions of their lives.
Flat Fee Realty wants Triangle homebuyers and sellers to make an informed choice when choosing a listing agent. Be on the lookout for these three common red flags:
The agent is a friend or relative: With thousands of agents practicing in Raleigh, Cary, and the surrounding areas, it's likely that many buyers and sellers have a personal relationship with at least one real estate agent. While it is certainly admirable to want to give business to those nearest and dearest, tread carefully in the decision. If problems arise, it can be difficult to address them with a good friend or family member, leading to resentment or damage to the relationship.

The agent is part-time, or does real estate "one the side": For buyers, time is of the essence in today's hot real estate market. From showing homes to submitting and negotiating offers, buyers need an agent who is available at almost all times. For sellers, an agent that actively follows the market daily and is available for last-minute showing is a necessity. A part-time agent is unlikely to give each client the time and attention they deserve.

The agent is unfamiliar with the neighborhood or property type: The real estate market is hyper-local, varying from town to town and even neighborhood to neighborhood. It's essential to choose an agent familiar with the area, since he or she may already be in touch with buyers looking for a similar home, or sellers with homes not yet on the market. Likewise, when selling a condominium or purchasing an investment property, opt for and agent experienced with that type of product.
When it comes to choosing the right real estate agent, it pays to do the appropriate research and compare a few agents. Get recommendations from friends, coworkers, or family members, and note which agents are buying and selling in your neighborhood. Don't be afraid to ask questions, and don't be dazzled by a slick listing presentation only to find out there's nothing under the surface.
Whether a buyer or a seller exploring the benefits of a flat fee listing or in need of a full-service agent, Flat Fee Realty has everyone covered. Contact the experienced agents at Flat Fee Realty today!
**
This post on selling and buying a home in the Triangle is brought to you by the team at Flat Fee Realty and is intended for informational purposes only. 

Flat Fee Realty

919 342 5230

Photo: Stuart Miles, Freedigitalphotos.net