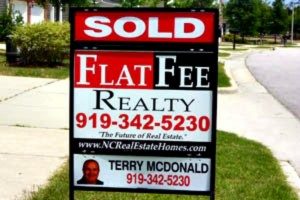 Merry Christmas and Happy New Year everyone! Selling a home can be a stressful endeavor for Triangle homeowners during the Holiday Season and into the New Year. The housing market in Raleigh and the surrounding area has many prospective buyers looking for homes in the Capital City, Apex, Cary, Morrisville, and Holly Springs among others.

Listing a house "For Sale by Owner" (FSBO) might seems like a good idea for home sellers who think they will be saving and making money when the sign goes up. It is not as easy as it is in theory; often the reliance on a real estate agent knowledgeable in local and the Triangle market will be an advantage.
Our real estate market experts at Flat Fee Realty explain three reasons why FSBO is as much of a challenge as it is a risk for home sellers and buyers:  
The FSBO market is often a challenge: A fairly recent study by the National Association of Realtors reports that sales of homes listed as FSBO accounted for only 9% of all home sales; the FSBO market peaked at 14% in 2004. Smaller numbers mean more challenge.
Marketing is never easy: A local Flat Fee Realty professional knows the market and the listings. Yard signs, Facebook postings, and newspaper ads may seem like the current methodology for selling a home, but relying on these strategies can place a novice seller at a disadvantage. Plus, working with Flat Fee Realty can boost the chances of a qualified sale; listing the home on the Multiple Listing Service (MLS) is a great factor.
Limited availability for potential buyers: Many potential buyers can place multiple demands demand on the seller, and at a moment's notice. For Triangle working professionals and parents, this can be a problem both with schedule and time. Having an expert Flat Fee Realty agent can minimize stress and manage the showings.
Listing as home "For Sale by Owner" can have considerable drawbacks that can affect selling success.  For those looking to sell a home across the Triangle, please contact our expert agents at Flat Fee Realty for exceptional service and insight into the Triangle housing market.
May everyone have the most wonderful Christmas and Happy New Year! 
**
This post on selling and buying a home in the Triangle is brought to you by the team at Flat Fee Realty and is intended for informational purposes only.
The Future of Real Estate!
Flat Fee Realty
919 342 5230
Find and like us on Facebook!
Contact Us
Terry@FlatFeeNC.com
Photo: Flat Fee Realty in Morrisville