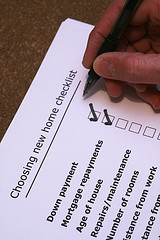 When it comes to purchasing real estate in the Triangle, there are a few truths even the most inexperienced home buyers in Raleigh-Durham know. Making location a top priority and cleaning up credit reports are on the list, but first-time buyers need to be savvier than ever before.
The following five "under the radar" tips are brought to you by Flat Fee Realty and are guaranteed to give buyers an edge as they look for a new home:
Get pre-approved, not pre-qualified: Pre-qualification is useful in terms of figuring out how much home is affordable, but that's about it, because none of the financial information has actually been verified. Being pre-approved means obtaining a written (albeit conditional) commitment from a lender after a more extensive review process. This carries much more weight during negotiations with a seller, and leaves less to chance during the closing process.

Don't always buy the best you can afford: Conventional wisdom says to buy the best quality items that are affordable. But in the case of real estate, leaving a bit more leeway is smart (consider the effects of a job loss or having a child, for instance). Still have money left over? Use it to build equity or make improvements to enhance your home's value.

Learn to separate needs from wants: Everyone wants a stylish, move-in ready house that meets all 35 items on their wish list. But even with an unlimited budget, that's probably impossible. Instead, think in terms of what can be changed and what can't. Updated finishes can always be added—not true for a backyard or a great school system.

Don't obsess over the housing market: Whether it's the buyers or the sellers that are on top this year, if a buyer is financially able and needs or wants to buy, then it is the right time. Looking for a bargain in the Triangle? Motivated sellers and solid deals exist in any market, and our professionals can help you make the most of those hard earned dollars.

Work with Flat Fee Realty: Ok, so this isn't exactly unheard of, but the most important thing for a homebuyer to do is to work with the best. It is free of charge, and gets buyers a personal shopper, expert negotiator, and legal and financial assistance. Take advantage of this opportunity and call Flat Fee Realty today!

Finding a good real estate partner, when looking for a new home, makes for less stress and less hassle during a time of both opportunity and challenge. We can manage the process and work in your behalf. Buying a house is an exciting time. Have fun and enjoy the experience.
**
This post on selling and buying a home in the Triangle is brought to you by the team at Flat Fee Realty and is intended for informational purposes only.

The Future of Real Estate!

Flat Fee Realty

919 342 5230
Photo Credit: Alan Cleaver / Foter / Creative Commons Attribution 2.0 Generic (CC BY 2.0)